At Birch Bay Ranch, we love our horses! If you've been out to the ranch for camp or Family Fun Day, you've probably met our "Big Girls" - the team that pulls the wagon!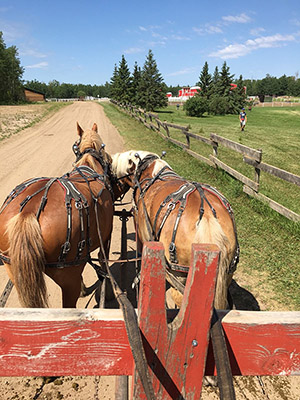 Pearl is a 17 year-old Belgian draft horse. She's 18 hands high (a way to measure horses - each "hand" is approximately four inches) and weighs approximately 1175 lbs. Her partner, Bea, is 12 years old and 18.2 hands high. The girls have been part of the Birch Bay herd since 2013.
Together, Pearl and Bea pull the wagon or the sleigh in the winter. Pearl always pulls the wagon on the left side of Bea, and in the world of Belgian heavy horses, they would be considered "middle weights".
Birch Bay Ranch sits on 144 acres and we have a wide road through our Back Pasture that we love to use for hayrides. It loops through meadows and forests and passes by many of Birch Bay's buildings and other sights (including our Back Pasture tire park where we like to take a quick break and play!)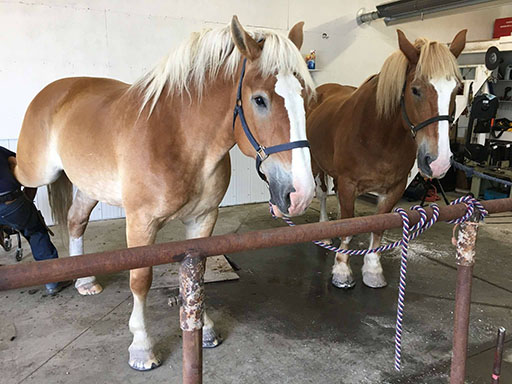 Horses require a lot of care and attention: feeding, grooming, shots and vaccinations, and training. Because of the nature of the work that the girls do, they spend a lot of time walking on hard gravel roads. To protect their feet, we get shoes put on their hooves so that they don't wear unevenly and put unhealthy strain on their legs.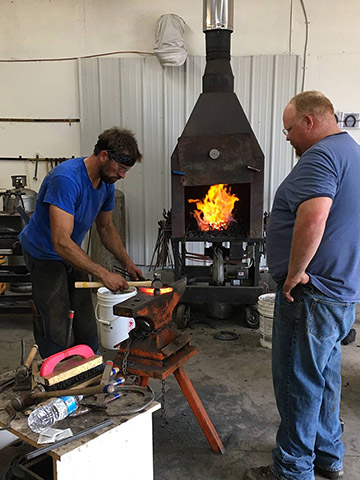 Recently, Pearl and Bea went to visit our farrier - Jason and his team:
Jason Wrubleski from Sherwood Park
Kris Kremp from Barrhead
Greg Toronchuk from Onoway
Krispian Schmidt-Paborn from Tofield
First, the farrier trims the hoof and gets it all manicured and prepared for the shoe. The farrier then crafts shoes for each feet out of a piece of metal. They heat it up, shape it, and set nail holes. Once the shoe is cool, the farrier nails it on to the horse's hoof. For our two horses, it takes a team of four certified farriers five hours from start to finish!
We are so thankful for Jason and his team. Not only do they take care of the Big Girls, but they also come out on rotation to trim the rest of the herd as well. Jason donates a significant amount of his time and efforts to Birch Bay Ranch and we are thankful to have him and his team partner with us in being able to provide awesome activities like hayrides to our groups and campers!