ULTIMATE ZIPLINE GUIDE
Birch Bay Ranch has a lot of different activities to offer, but we know that the ziplines are definitely a big hit. With four different ways to zip available on property, we thought we'd break them down so you know exactly which ones you want to try on Family Fun Day!
SUPER ZIP
Our tallest and longest zipline, the Super Zip is definitely a show-stopper! To get to the beginning of the zipline atop the Super Tower (or Red Tower), you'll have to climb 88 stairs. Once you're hooked up and ready to go, our staff will send you out of the tower and you'll zip down a quarter-mile long cable past the sports field, main lodge, and archery ranges before you land and a staff helps you to disconnect.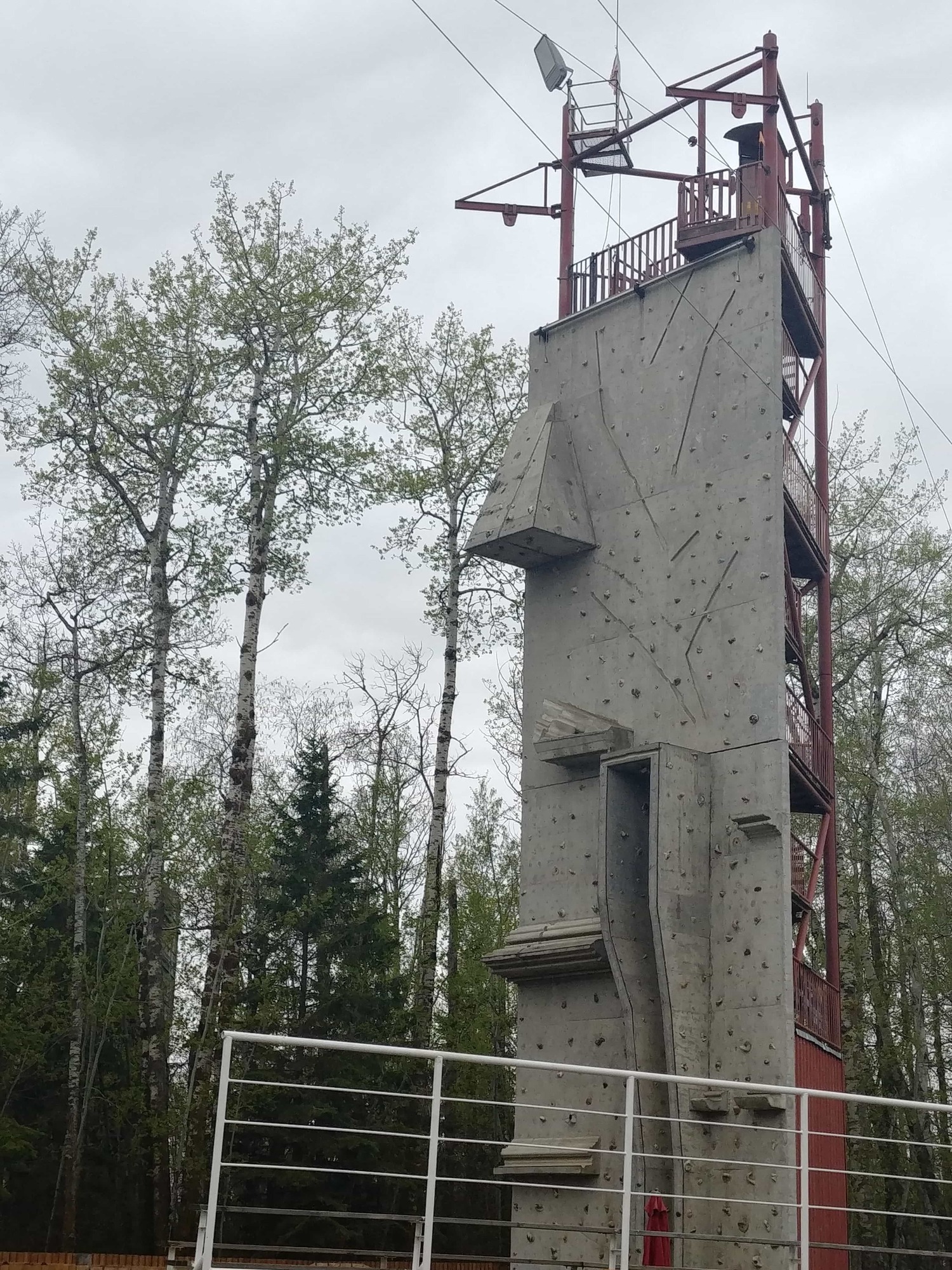 HEIGHT: 70ft
TO THE TOP: Staircase
TYPE OF ZIP: Gradually picking up speed, straight, scenic, no freefall.
RECOMMENDED FOR: Newbies, people who want to see the sights!
TIPS: This zipline is incredibly popular, so either make sure you get your wristband right away or consider trying out one of the other great ziplines listed below!
---
BURMA ZIP
Tucked away in the trees on the ropes course lives our Burma Zipline. You'll climb a ladder into Burma Low Tower where you'll be hooked up to cross the Burma Bridge. Once you get to the yellow Burma High Tower, our staff will hook you up and send you out! Imagine the zipline like a giant swing where you go back and forth a few times until you come to a stop and land.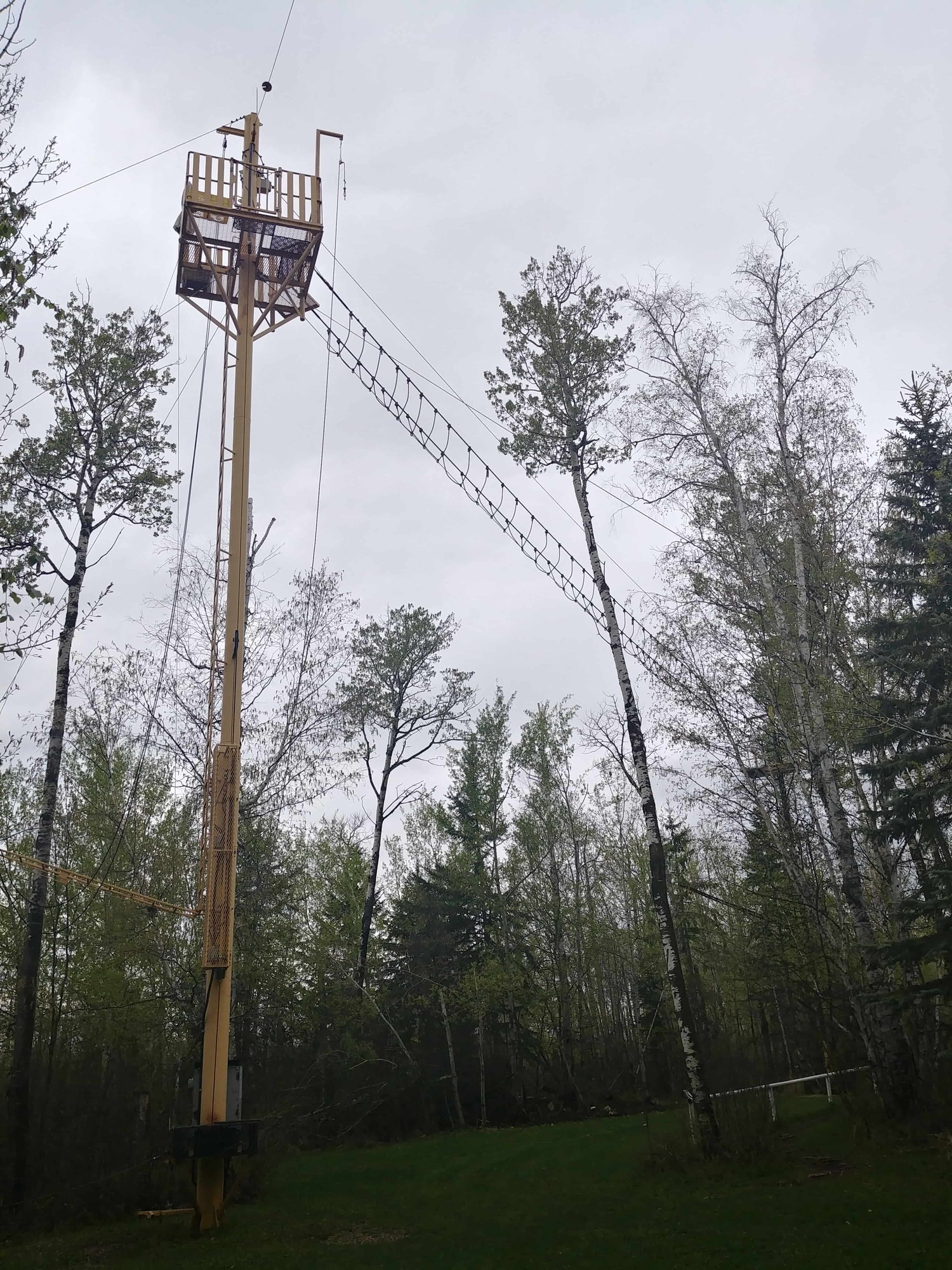 HEIGHT: 50ft
TO THE TOP: Ladder, three rope bridge (single cable to walk on with waist-height hand rails)
TYPE OF ZIP: Minor drop (free fall feeling), swing-like (back and forth)
RECOMMENDED FOR: People who want to do something more adventurous than the Super Zip. Burma has an easier bridge and is not as high as the K3 Zip.
---
K3 ZIP
The K3 Zipline is one of the activities run off our orange K3 Tower system right in the middle of the ropes course. To get to the zipline, you'll have to climb a ladder and cross the K3 Bridge which is wooden planks suspended in the air. The K3 Zipline is our most thrilling zip because you'll experience a "dropping" sensation as you leave the tower before the pulley sweeps you up and zips you back and forth a few times before coming to a stop.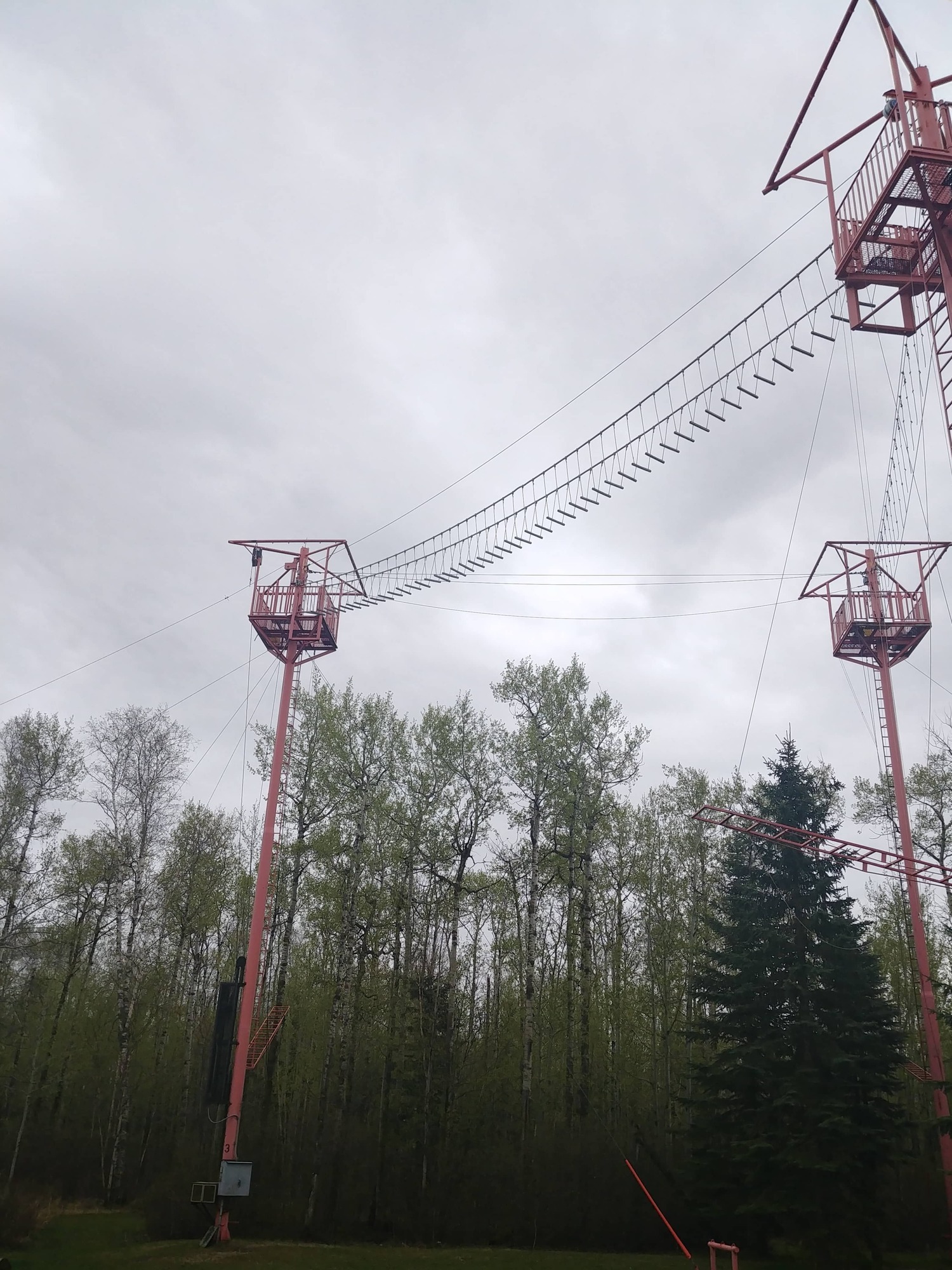 HEIGHT: 55ft
TO THE TOP: Ladder, Suspended plank bridge boardwalk
TYPE OF ZIP: Significant drop (free fall feeling), swing-like (back and forth)
RECOMMENDED FOR: People who want an adrenaline rush and aren't scared of heights or drops.
---
SILVER BULLETS
The Silver Bullets are our two newest "twin" ziplines and likely the first ziplines you'll see as you drive on property! Much like the K3 Zipline and the Burma Zipline, you can think of these like a giant swing where you zip back and forth. These don't have the same "free fall" or "drop" affect as the others, but the fun part about trying the Silver Bullets is that you can race your friend! Both of you will each climb a ladder to get to the top and then you will be hooked up by our staff. You can countdown, yell go, whatever you want and both leave the tower at the same time! Don't have a buddy? Don't worry! We'll find another individual rider to send up with you or you can do one of the Silver Bullets solo - still a fun time!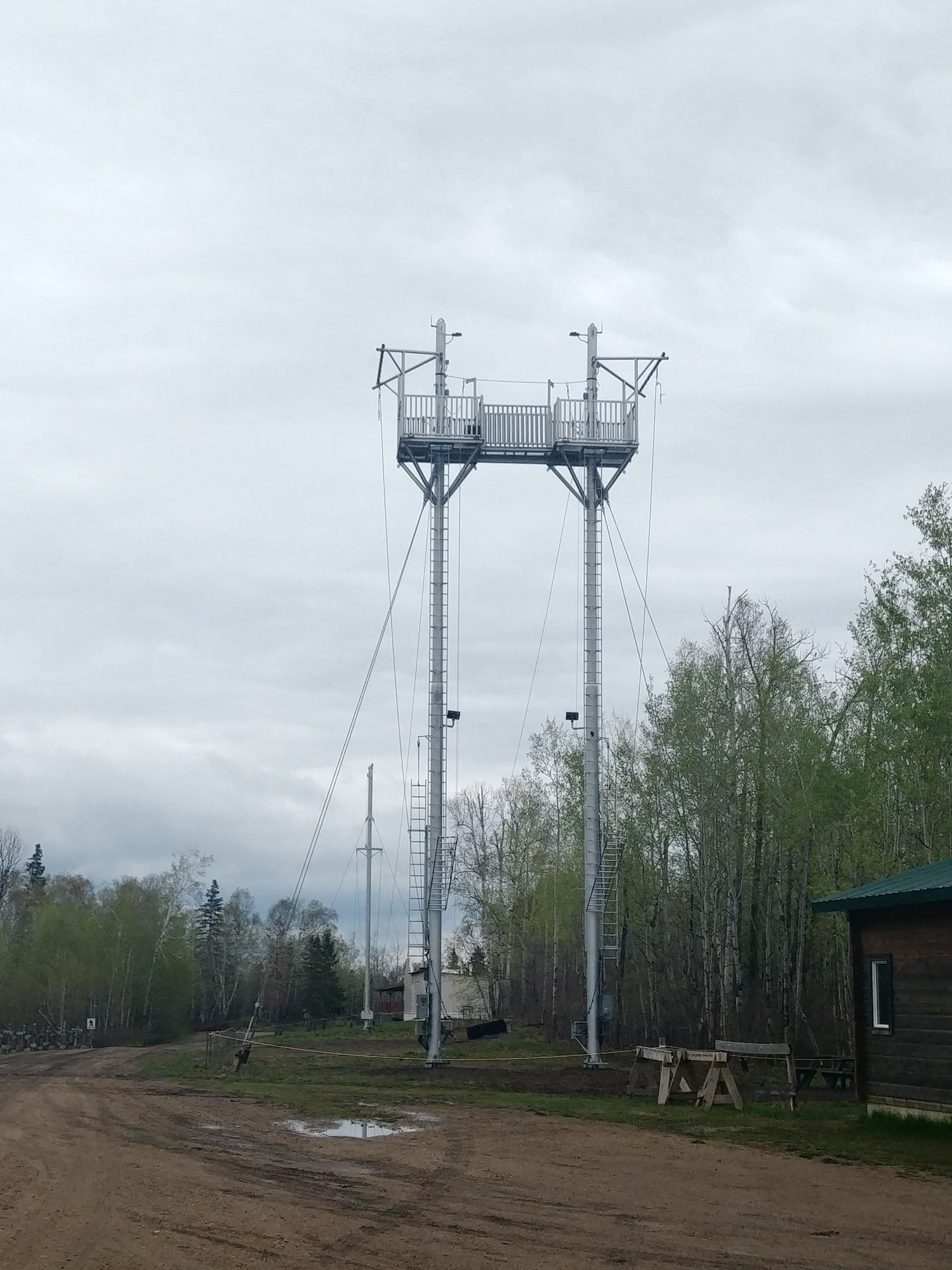 HEIGHT: 55ft
TO THE TOP: Each person climbs a ladder.
TYPE OF ZIP: Swing like.
RECOMMENDED FOR: Groups of two who want to race and experience the zipline together or individuals who want to try a "swing-like" zipline but without too much of a drop feeling.
---
MINI ZIP
That's right, there's one more sneaky little zipline on property and it's part of our Low Obstacle Course! The Mini Zip will not be open during Family Fun Day, but if you come to Birch Bay Ranch during summer camp or another time, you might see it being used!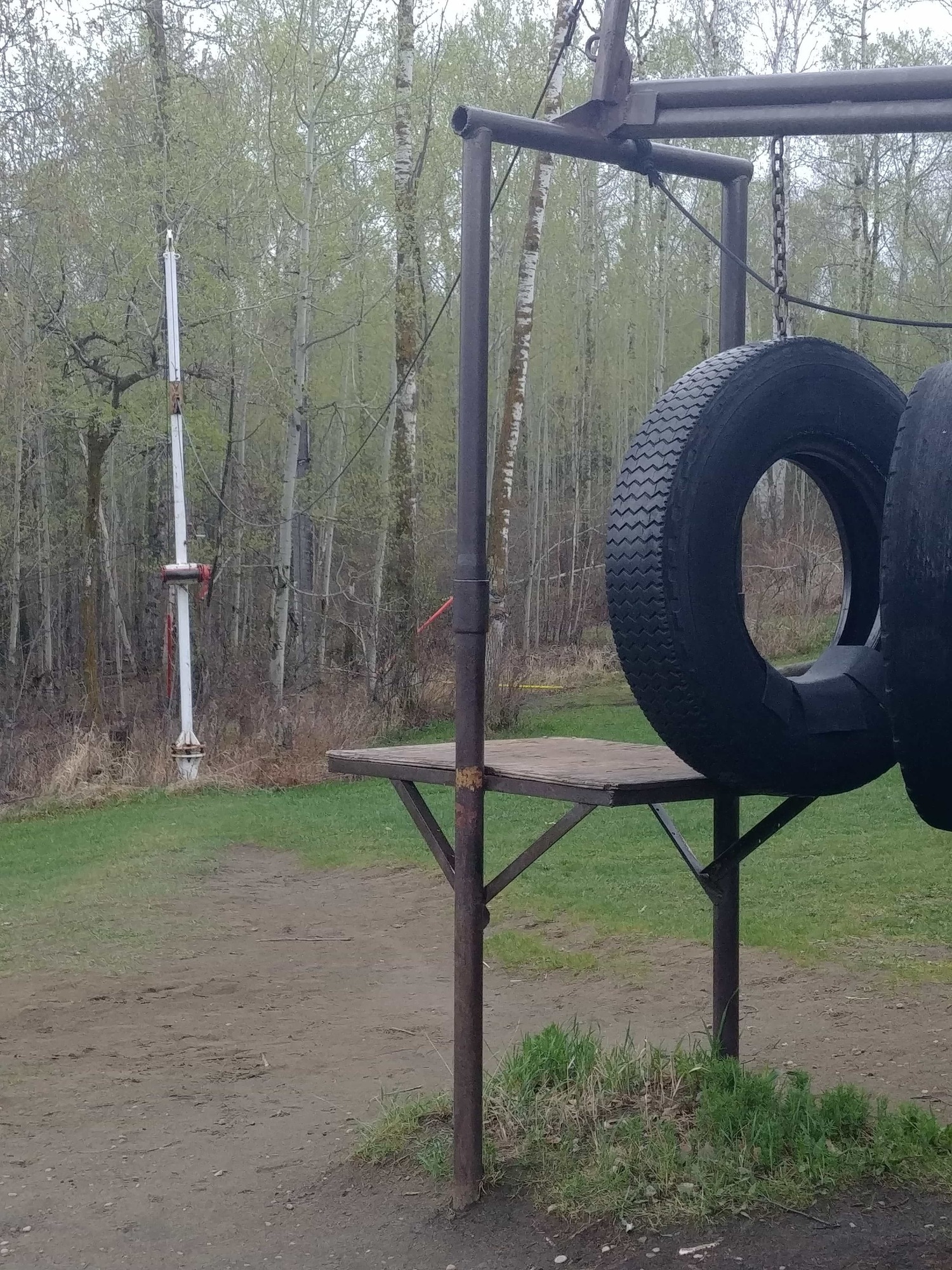 HEIGHT: 5ft
TO THE TOP: Through a tire tunnel (or climb onto the platform)
TYPE OF ZIP: Short, straight.
RECOMMENDED FOR: Kids
---NOT OPEN DURING FAMILY FUN DAY---
We're looking forward to having you out during Family Fun Day this year! Let us know which Zipline you're most looking forward to on our Facebook Event!